Business Leaders Jay King & Will McClure Elevate The California Black Chamber of Commerce For Small Business Wealth.
Lela Christine and Moshe Lewis, MD interview the CBCC leaders who share what their PLAN OF ACTION is to educate, uplift and bring funding resources to aid small business succeed.

Join The California Black Chamber of Commerce: https://www.calbcc.org/
Get certified to win contracts today.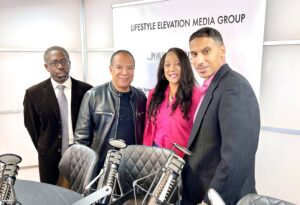 About Jay King
President California Black Chamber of Commerce
And, FOUNDER of Club Nouveau R&B group
https://en.wikipedia.org/wiki/Club_Nouveau
About Will McClure
Will McClure, Director of Small Business is a retired US Army First Sergeant. Will comes to the CBCC after retiring from the US Department of Transportation, Federal Highway Administration, California Division Office as the Civil Rights Program Manager. Will's FHWA experience includes managing the Disadvantaged Business Enterprise (DBE) Program, DBE Supportive Services Program, the On-the-Job Training Supportive Services Program and the Americans with Disabilities Act Program. Recognized as a national expert, Will has received numerous national awards and has been featured in Public Roads Magazine for creating efficient and effective programs for individuals entering the construction trades, and small businesses. Will is a certified Army Instructor, and former college professor at Cal Poly State University in San Luis Obispo, CA. He is also certified by the National Highway Institute as a small group instructor. Will possesses a Bachelor's Degree in Business and an MBA from Touro University, where he graduated Cum Laude.
TALK SHOW HOST
Lela Christine
Publisher | Lifestyle Influencer
Lifestyle Elevation Media Foundation, Inc.
@lifestyleelevationmedia
Lela Christine is a talk show host, brand creator of pop culture digital news magazines: THE POWER PLAYER LIFESTYLE | FAB FIVE LIFESTYLE | GODDESS COUTURE NEWS & WEDGEDIN focused on entertainment, fashion, beauty and lifestyle living. Proving over the last decade to be an industry titan, Lela is a renowned visionary, leader, and orchestrater of high-level success in the fields of digital technology, fashion, marketing, and innovation."
www.lemediafoundation.org
Moshe Lewis MD
CEO | Producer Music And Medicine Show
Instagram: @musicandmedicine.show
Website: https://linktr.ee/Musicandmed
The Music and Medicine show hosts legendary musicians, composers, and producers as well as up-and-coming artists who deconstruct their musical backgrounds and sound while also tackling health issues that matter to them. Guests have included Dionne Warwick, Gerald Albright, After 7, Mindi Abair, Michael Colyar, Tweet From NEXT, Louis Gossett Jr and Andrew Young. Website: www.musicandmed.org
@musicandmedicine.show