the leaders, innovators, experts, artists, and creators across the music products, pro audio and sound, and entertainment technology industry gathered for a rousing reunion at the global crossroads, The 2022 NAMM Show. Held June 3-5 in Anaheim, California, the three days welcomed old and new faces to reconnect, launch and discover new products, and galvanize the industry to continued success.
"Looking back to the 2020 NAMM Show, I don't think anyone could have predicted just how transformative the start of this next decade would be," said Joe Lamond, NAMM President and CEO. "But as we have weathered the uncertainty and loss over the past two years, we again stand at the crossroads of opportunity. The NAMM Show serves as that platform for the next generation of technologies, products, and services, and sets the stage for NAMM Members to discover their own opportunities to advance their businesses, skills, and market opportunities."
"It's good to be back in Southern California and to see so many NAMM Members come together again to experience the products and innovations of the past two years and to enjoy the comradery and networking that's been missing from our lives for far too long," says NAMM Chair, Joel Menchey of Menchey Music Service. "We're at our best when our industry is together, and at a show like this, inspiration emanates from every hall, conversation, and surprising chance encounters to become the launching board for the next great idea."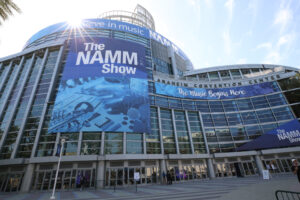 Reunification at The Crossroads 
With a desire to reignite industry relationships, business and launch new products, the Show welcomed over 1,000 exhibiting members representing 3,500 brands across the campus of the Anaheim Convention Center. As a smaller yet truly global affair, the mix of 46,627 registered attendees represented 111 countries and territories.
Attendees were an invited mix of industry professionals from across the crossroads that included domestic and international retail and distribution buyers and employees, exhibitors, entertainment tech and pro audio buyers and professionals, media, artists, invited guests, and The NAMM Foundation's GenNext (college music students and faculty), Music Education Days (school music administrators and buyers) and Nonprofit Institute (NAMM grantees and nonprofit affiliates).
"Our industry is built on the connection between people, and consequently, it's been important and inspiring to connect again, face-to-face," said Adam Hall Group CEO Alexander Pietschmann. "The new NAMM has afforded artists, music enthusiasts, and industry professionals the opportunity to engage in vital conversations, educational sessions and instilled further confidence that the live event industry is alive and well."
Tom Sumner, President of Yamaha Corporation of America, says, "Over two years removed from NAMM 2020, The NAMM Show 2022 reminded the Yamaha team of the power of in-person events. We launched our flagship grand piano, the CFX, at the show. There is no better way for our dealers to show attendees the craftsmanship and power of this magnificent instrument than to experience it in person and hear a great pianist play it. Our Yamaha team welcomed a large number of dealers, guests, and press to our booth, who got to touch and play instruments like the new Revstar guitars. With live music back, we were happy to treat NAMM attendees to the Yamaha Night of Worship with Fred Hammond on Friday Night and an amazing All-Star Concert on the Grand with Kandace Springs, Preservation Hall Jazz Band, and Tank and the Bangas. The Grand Plaza was filled each night until the last note!"
"It's great to be back in person," adds Chris Martin, C. F. Martin & Co. "NAMM is a microcosm of our industry. From networking with our dealers, distributors, and industry peers, to providing a worldwide platform for launching new products, to consumer and artist connections, it doesn't get more impactful than this. We wouldn't miss it."
"This NAMM Show was more important than ever for Casio," affirms Stephen Schmidt of Casio's Electronic Musical Instruments Division. "This year's forum enabled us to reconnect with our dealers and industry friends and provided a sense of normalcy and the 'good old times.' While we were excited to share our award-winning Privia pianos and Casiotone keyboards, we were equally grateful to NAMM for its strong leadership and support, and for working overtime to successfully and safely bring us all back together."
Mark Ravenhill of German Light Products says that "The industry is starting to get back on its feet again. We've been a longtime supporter and a longtime member of NAMM, and certainly through the pandemic, NAMM was one of the few organizations that really stood up for our industry, with our industry, to garner support. It was absolutely a 'no-brainer' to be here, with our industry. We're here, we're glad to be here and we'll keep coming here."
"NAMM is always a special date in our calendar as it's a vivid reminder that we are part of something bigger than ourselves, an industry full of innovation that's constantly driving towards delivering products that enable people to create and enjoy music. We are lucky to be part of it," comments Andy Allen of Audient.
Joue Music's Pascal Joguet says that "The NAMM show is legendary. Everybody involved in music knows about it. Far away from here, in the southwest of France, we have worked tirelessly to craft the Joué Play, a digital instrument with a soul – and we wanted to share it with the enti